My Angel...

Jason Frevold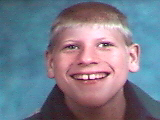 16YRS
08/29/1982
Deletion +
"Jason came into this world moving at high speed an has not stopped since. "
For almost 13 years we were told that our son Jason had Cerebral Palsy and Microcephally. According to his doctor, there was no other explanation for his condition In my heart I knew something just did not ring true with that. One day I woke up and decided I wanted to play hookey from work and take some time for myself. That day, be it fate or luck, gave us the answer we were searching for.
As I was "channel surfing" I happended to come across the Sally Jessy Rapheal show. On the stage were several children and their parents. A huge smile appeared and caught my attention so i watched...it was like a home movie! It was our boy in disguise! The same movements, smile, likes and dislikes. The same walk and the same gestures. I wrote to the show and requested information on Angelman Syndrome. Armed with that information I presented it to his pediatrician. Jason was 13years old. A FISH chromosome study was done and it did indeed confirm a deletion on the 15th chromosome and after 13 years we had a diagnosis.
Every day has been a trial in patience...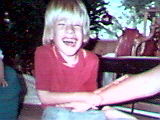 SMILEY
Everyday has been a learning experience...
Everyday has been good...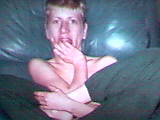 18 YRS

(He is our gremlin)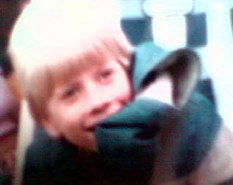 MY CHEWER
8YRS